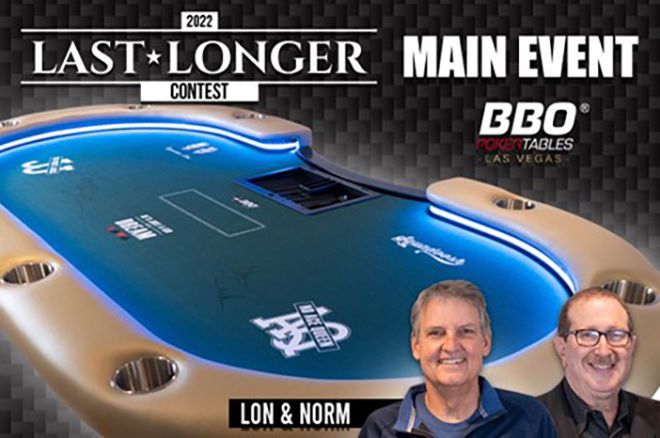 In the final giveaway of the summer, Legendary WSOP commentators Lon McEachern and Norman Chad are hosting the BBO Poker Tables Last Longer contest at this year's Main Event. The duo that has been bringing the poker world unforgettable play-by-play over the last 19 years will be giving away their Signature Line poker table designed in conjunction with BBO Poker Tables, the leader in premium poker tables.
"Sometimes and I get tired of Lon and sometimes he gets tired of me. The winner of this awesome BBO poker table will have a chance to get tired of both of us." – Norman Chad
To win a signed version of Lon and Norman's Signature Line poker table, players competing in the main event simply register at BBO Poker Tables and whoever lasts longer automatically wins.
BBO Poker Tables congratulate Rick Alvarado for winning the Last Longer contest for the Millionaire Maker, and look forward to announcing the winner of the Main Event contest!
You can follow all of the updates from the 2022 World Series of Poker Main Event right here at PokerNews. Our team of live reporters are on the ground from the first hands dealt to the champion being crowned.
About BBO Poker Tables
BBO Poker Tables has been pioneering and producing stunning custom poker tables since 2006 and is the highest-rated poker table brand in the market. Based in Las Vegas, BBO offers free shipping and concierge service for clients to ensure a truly personalized design experience.
Recommended for you